The Perceived Exertion Scale should be used by patients to evaluate the severity of their shortness of breath and muscle fatigue.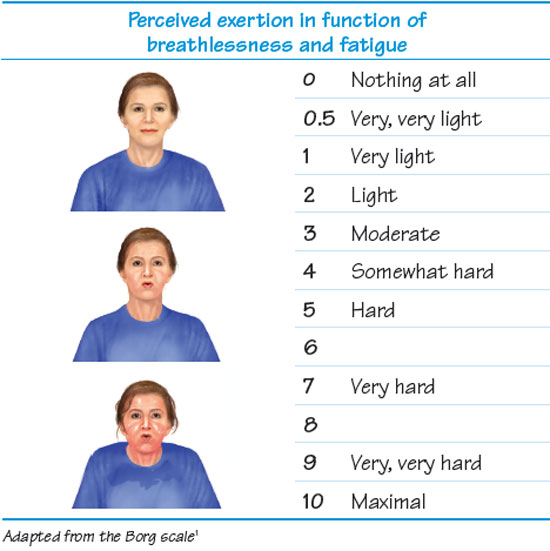 Source : Living well with COPD Program, Module: Get moving... breath easy, p.6.
The scale is graduated from 0 to 10. It is recommended that the patient do their exercises at a shortness of breath and fatigue level of somewhere between 4 and 6 out of 10. For example, at this level, the patient should be capable of answering someone who asks them a question, but not be able to carry on a conversation.
IMPORTANT
Prevent the patient from going over level 6 on the Perceived Exertion Scale. If they go over 6, the intensity of their workout is too high.
Recognize one's limits
Normal signs that can appear when one is doing exercise:
Light to moderate shortness of breath
Sweating
Fatigue or heat in a person's legs
Minor muscle or joint pain
*If the patient feels none of these symptoms, it is possible that the intensity of their workout is insufficient.
Abnormal signs:
Chest pain
Severe joint pain
Dizziness or vertigo
Palpitations
Significant and extended respiratory difficulties
Headaches
*If the patient experiences one or several of these symptoms, they must temporarily stop doing the exercise and contact their physician and/or health care professional.